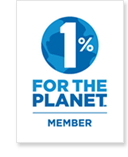 We've been members of 1% for the Planet since 2010. Each of those years, we donated one percent of our annual revenue to nonprofit environmental organizations.
While we could simply donate without joining 1% for the Planet, we continue our membership because it keeps us committed to giving (we pledge, therefore we donate), our donations focused (the receiving nonprofits are first reviewed by 1%), and you're assured that our commitment is real (1% audits our donations to see that we actually gave one percent).
The passing of another year means another round of giving. We spread our dollars like usual, among local and national nonprofits. Delve closer into our selections and you'll see our interest in cycling and alternate transportation, healthy food choices, and cleaning up or protecting our environment. For 2013, we donated to the six organizations listed below.